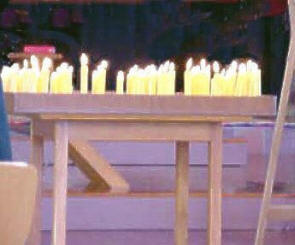 I went to worship at Holy Trinity Cathedral, and for once I am lost for words to describe one of the most moving experiences of my whole life to date.
It was called: "A Service of Thanksgiving in recognition of those who have given the gift of life to others." But that describes not the half of it, for the Service was arranged by Janice Langlands and Ralph Maddison, National Transplant Donor Co-ordinators.
There were a great number of people there. Almost everyone present had been very close to the questions of life and death– either for oneself, or a loved one.
Some came following the very difficult decision to donate the organs of a loved one, so that others might receive life itself, or at least an enhancement of life through such a gift as a cornea so that sight might be recovered.
Others came very humbly, giving thanks to the families of the unknown donors whose death had brought them life and hope- thanks to the skills and dedication of the whole transplant team which had made it all possible.
Those who had received a transplant came forward to light a candle as a symbol of renewed life and health.
Members of families of those who had donated organs came forward to receive the gift of the Camellia "Donation" at the hands of the co-ordinators and some of the young recipients.
Some people came forward twice.
One such couple were John and Susan.
Only 18 months before John would himself need the altruism of a donor family for the replacement of his liver, Susan had taken the telephone call from the hospital asking if she would agree to donate the corneas and heart of their only son who had just been killed in a motor-bike accident.

No one who has not been faced with such things can ever know exactly what it means to those involved.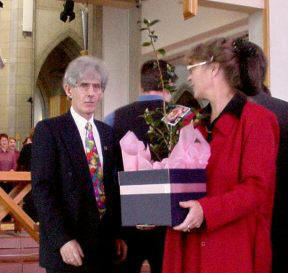 Little wonder the Cathedral was hushed. There were tears, for memories were being revisited by very many people. Understandably, one's sense of joy w
as muted.

For some, this writer included, earlier fears and pain came to the fore. Yet afterwards, there was a feeling of release, and a renewed sense of the value of the gift of life.

John puts it this way: "It's hard to put into words just how grateful and fortunate I feel. A few short months ago I believed I probably wouldn't see my next birthday, the America's cup, or the new millennium.
"It was horrifying and shocking. To look at family pets with the belief they would probably outlive me was painful.
"Trying to come to terms with leaving my wife after 32 years was appalling so soon after the shattering tragedy of losing our only child.
"But now, thanks to you all, every day is an unexpected miracle!"
Stephen Brooker
2000
Reprinted with permission from "The Anglican", Volume 3 Number 2 at page 7.  July 2, 2000.