Kerry's Story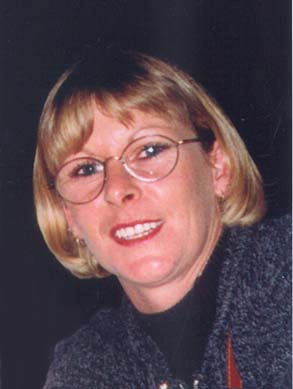 ---
Kerry and Deb had just assembled the new gas barbeque.  It was the barbeque for the new millennium and the plan was for Kerry to cook tea on it that night. They shot down to the local hotel for a quick drink. Deb left about 7pm and Kerry stayed on chatting to friends, making plans for their millennium night celebrations. At about 9:20 pm Kerry suddenly felt sick and went outside to get some fresh air. She was seen to stagger as she exited the hotel, collapsed unconscious, had a seizure and stopped breathing before the ambulance arrived. A second ambulance was dispatched once bystanders realised Kerry was not breathing. The first ambulance to arrive found Kerry lying unconscious on her side but now breathing.  Her speech was slurred and incoherent but she would open her eyes when spoken to. She was taken to hospital by ambulance.
As Kerry was being taken to hospital, her concerned friends rang our family. Deb rang about 10pm to tell me what was happening while Mum and Dad made their way to hospital. Deb and I joked about it really 'cos it couldn't be anything serious, after all Kerry was in perfect health.
Kerry was restless in the emergency department and was eventually restrained. Emergency department staff tested for drugs.  During this time Kerry developed a headache, refusing any form of pain relief as she had had a few drinks. She continuously asked for Mum to take her home.  A doctor noted that Kerry was legally intoxicated with the possibility of other drugs and that she should stay in the emergency department until she could fend for herself. With this, our parents left for home expecting a phone call to come and collect her later.  
Around 00:45 Kerry deteriorated in the emergency department. About 1:30 am our family were rung to say that Kerry had deteriorated and was on the way to have a scan of her brain.  Deborah rang me to say things were not sounding very good at all.
At 2 am Medical staff explained the seriousness of Kerry's condition to me. She had a large bleed from a ruptured artery in her brain. Options included flying her to Wellington should she show some improvement for surgery. What was I to do? Stay or go? This couldn't be that serious surely? Not Kerry. There began the start of our nightmare, the end of our world.
Amongst all the latest technology, surrounded by the gentle hiss of a ventilator and various tones from alarming equipment, lay Kerry. Perfect, unmarked, asleep. Intravenous bags of this and that hung from the ceiling above her, various pumps pumped, while leads snaked across her body.  Her top lip was swollen from where the ventilating tube rested, with each hiss of the ventilator reinforcing how serious things were. The Intensivist explained the prognosis was extremely poor but there was a slight glimmer of hope.  Hope was all we had.
A Wellington neurosurgeon reviewed Kerry's scan and present state, deciding she was still too unwell for surgery. But at least she was still coughing as they suctioned her ventilator tube. The doctor who had treated Kerry in the Emergency department came to talk to our family.  He was clearly grief stricken that her original bleed had not been detected or suspected.
 Tonight was New Years Eve, the end of the century, the millennium with celebrations ranging far and wide. Kerry's nurse was expecting a quite night at home.  We were exhausted. At midnight came the traditional celebrations, the fireworks while the partying clearly continued.  Our house was almost silent. Janet and I saw the New Year in sitting in the lounge listening to the celebrations, whilst the rest of the family slept. After all they had been up since 2 am the morning before, with only a brief nap.
Our world was on hold.  In those moments, as the world partied I wondered how many other families were going through what we were then, how many babies were to be born at this moment and if anyone else in this big wide world realised just how desperately Kerry was clinging to life. What could we do to help her survive?  Would she survive? And if so, how would the haemorrhage leave her.  Helpless? She'd hate that or would she pull off a miracle and fully recover. She was surrounded by love, by hope and by courage. We willed her to recover.
New Years Day saw another family conference with another Intensivist. The probability of brain death was discussed.  Kerry was beginning to deteriorate more often now. Each deterioration would be followed by a flury of drugs with which she would again settle. Friends and family were beginning to arrive from all over New Zealand, phones rang constantly and the situation grew grimmer and grimmer.  We begged, coaxed and joked with Kerry. She couldn't respond other than slight movement in her left hand.  Could she hear us, was she trying to reassure us with her little movements? We can only hope so.
The terrible realisation that Kerry was probably going to die was beginning to sink in.  Our family discussed organ donation if Kerry was to become brain dead.  We raised this with one of the Intensivist's who reassured us they would do all they could for Kerry and that organ donation, if it came to that, would be a distant second to Kerry's care.
Still she looked so perfect. Asleep for now, awaiting the miracle.
The next day Kerry was much sicker.  She had continued to deteriorate to the point that she was now totally unresponsive other than occasional movement in her hand. By evening this had also stopped. Friends and relatives came and went.  Tears flowed, and hope diminished. Leaving the hospital that night, we knew Kerry was to face the series of brain death tests in the morning. It was impossible to believe, our Kerry was going to die.
Kerry's last day:
After all drugs had been withdrawn, Kerry was certified brain dead after two tests, performed by two different doctors at 8 and 10:30 am. We were given the option of watching the tests, which we declined. This vibrant, much loved daughter, sister, friend and aunty was going through her final stages of her life. How could we participate in declaring her dead? We couldn't.   
Next began the process of selecting organs for donation.  We again ended up in the "family room", with which we held the monopoly; to discuss exactly which organs Kerry was to donate. It was a very tough process. While we knew the importance to every recipient of every organ, it was heartbreaking to know that Kerry was going for surgery to have her very essence removed. 
Kerry was certified brain dead at 11:02 am.
We were instructed to say our goodbyes and then go, which we did.
What can you say?? I love you seems so inconsequential and inadequate. See you later?? We wont. Thanks for the memories??
How can you say goodbye to someone you love, who fought with you, laughed with you, cried with you. Who at times was a pain in the butt, yet loved us in spite of our faults, as much as we loved her? 
At 31, Kerry's life was over.  No husband, no children, no little cottage with its white picket fence. Our Kerry was gone.
---
Kerry was in surgery for over three hours. Her heart, pancreas, liver and kidneys were removed for transplantation. Phil, one of her nurses, stayed with Kerry until the operation was completed even though his shift had finished prior to Kerry going to theatre. He had, to a degree, bonded with our family and even attended her funeral.
Ross, a close family friend and funeral director collected Kerry after her surgery, bringing her home to our house the following day.  A large group of Kerry's friends sung a Maori welcome as Kerry was brought home.  She lay in her bedroom for the two days prior to her funeral. Friends and relatives came and went, crying, laughing and singing to her. It was a small comfort being able to talk to her and kiss her good night, knowing she was home safe with us. Sadly this obviously had to end and the hardest part was yet to come. As Kerry's coffin was sealed, so were her dreams, hopes and future.  Sealed with Kerry was all our love, respect and admiration for her battle to live and, in death, her gift of life to others.
Friends and relatives from all over New Zealand and overseas attended.  To this day, people still approach us to say what an amazing service it was. It was funny, tragic and sad, all at the same time. Emotionally draining but the love and compassion that was evident was almost overwhelming.
Kerry had the unique ability to relate to all people regardless of their social or economic status, a fact that was very evident in the diverse range of people and cultures who came to say goodbye. We cannot think of a more fitting way to say goodbye and she would have been proud of her service.  It appears Kerry didn't want the service recorded as three separate recording systems failed to record the service.
---
About a week after Kerry's funeral, Janice, the organ transplant coordinator, contacted us to let us know how the recipients were progressing. The youngest was a teenager and received Kerry's heart. Most recipients have written to thank our family for Kerry's donation.  The gratitude within those letters is from the heart and is very emotional.  Reading the letters provokes mixed emotions: pride that Kerry has given the gift of life to others, with grief and sadness that she has gone.
Others often ask how we could have made the decision to donate Kerry's organs.  To be honest it did not require much thought.  Here was a much loved daughter, sister, friend and aunty, who had so much more to offer the world and yet was about to die without doing so.  Organ donation seemed a natural option. Unfortunately the issue of organ donation was never discussed with Kerry, but given her personality we are sure she would have agreed. She would be so proud of herself.
We so look forward to hearing about the progress of the recipients but sadly don't often hear a lot. In a lot of ways, this is an area we, as I'm sure other donor families do, grasp onto following our loss. It is almost like their progress, is our progress also.
Rest in Peace our beloved daughter, sister,  aunty, cousin, niece and friend.
© Kelvin, Kerry's brother, May 2001