Details

Written by Richard Gordon
Category: Thanksgiving
Published: 23 August 2014
Hits: 3560
Jean Rombach's impression of the Memorial Service...
New Zealand's first Thanksgiving Service for Organ Donor Families and Transplant Recipients was a service of many emotions, some extremely painful with tears flowing and for others moments of joyfulness. Both the sadness and the joy were mixed with pain and loss but thankfulness for the sharing of lives and the continuation of life. It was an opportunity for the remembrance of loved ones, and knowing that parts of their bodies still lived on enriching the lives of others.
Can you imagine sitting in the Holy Trinity Cathedral, Parnell, Auckland, on the 23rd May, 1998 listening to and watching an amazing choir called Heaven Bent - a rather large colourful choir moving and swaying with the pulses and rhythms of their 'life-filled' music?
Every time I feel the spirit moving in my heart I do pray

Glory Hallelujah
Seven prayers were offered by transplant recipients, health professionals, and a family member who's husband's organs had been donated. Before each prayer a candle was lit, and after there was a response "God of life, hear our prayer."
These prayers preceded a scripture reading, a talk from Professor Munn from the Liver Transplant Unit, an address by the Very Revd. Michael O'Connor, and my poem. Professor Munn painted us a 'word picture' of the first liver transplant operation in New Zealand. There was the gravity of the illness experienced by a young woman of 26, a law student, nearly at death's door and how in her final hours and family around her bed, the telephone rings - a transplant was available for her! There was the hope and relief of her family, the nervousness in the waiting time during the eight hours of surgery and the overflowing joy and exhilaration of the medical team. Professor Munn spoke of his feelings of fulfilment, exhaustion and finally the deep, low emotions he felt as he read next morning the small-print notice on the back page of the Herald – a picture about the life of the one whose organ he had transplanted into the recipient.
The Dean spoke eloquently about the 'colours' of life and how he had wondered why the camellia flower was used as a symbol on this occasion. The camellia, which flowers in the wintertime – the 'winter' of one's life, has the blooms that symbolise hope and new life for another. Each donor family was presented with a pink camellia called 'Donation' packed in pink tissue paper within a deep green box. Hanging from every shrub was a card with a watermark of a camellia and my poem printed on it! For me it seemed an awesome sight. As I wrote this poem I was thinking of my donor and his family and I'm thankful to God for being able to express my gratefulness in this way.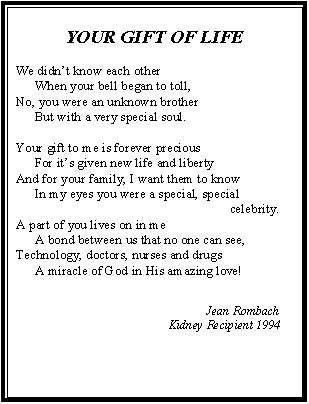 I have now attended three Thanksgiving Services. Each one has been very moving with different stories and experiences shared. I thoroughly recommend to donor families and recipients to attend if possible to give thanks for their loved ones lives, and for the lives that have been extended by wonderful gifts of love.
Jean M Rombach - kidney recipient
Palmerston North