HAEMOTOLOGY
Haemoglobin
The oxygen-binding protein within red blood cells. It contributes about 30% of the cell's weight. The lifespan of a red blood cell is 100-120 days.
PCV = Packed Cell Volume.
MCV = Mean* Corpuscular Volume (*Mean = average)
MCH = Mean Corpuscular Haemoglobin
WBC = White Blood Cell Count
(White blood cells form the family of Leukocytes, which are of two types, granular and non-granular, based on the appearance of their cell contents under magnification. All granular cells have mobility).
Neut seg (Segment Neutrophil) [granular type] 50%-70% of White Blood Cells (WBC)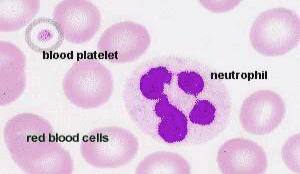 Neutrophils play a central role in inflammatory processes. Large numbers invade sites of infection and begin to envelop and destroy tissue debris and foreign bodies, e.g. bacteria. They are the first wave of cells invading sites of infection, and their activity is stimulated if invading micro-organisms are "tagged" with antibodies. Neutrophils cannot replenish their store of granules. The cells die once their supply of granules has been exhausted. Dead neutrophils and tissue debris are the major components of pus. Their lifespan is only about one week. Lost neutrophils are quickly replenished from a reserve population in the bone marrow.
Lymphocyte [non-granular type] 20%-40% of WBC
Most lymphocytes in the blood stream belong to either the group of B-lymphocytes (~5%) or the group of T-lymphocytes (~90%). Upon exposure to antigens by antigen-presenting cells and T-helper cells (a special group of T-lymphocytes) the B-lymphocytes differentiate into antibody producing plasma cells. The amount of cytoplasm increases and RER fills a large portion of it. T-lymphocytes represent the "cellular arm" of the immune response (cytotoxic T cells) and may attack foreign cells, cancer cells or cells infected by a virus. Another much less frequent medium-sized or large lymphocyte may re-present as natural killer cells which belong to the group of large granular lymphocytes, or as haemopoietic stem cells of which a few will be circulating in the blood stream.
Basophil [granular type] 0%-2% of WBC
Heparin and histamine dilate the blood vessels, make vessel walls more permeable and prevent blood coagulation. As a consequence, they facilitate the access of other leucocytes and of plasma-borne substances of importance for the immune response to the tissue - e.g. access of neutrophils and antibodies to a site of infection. The release of the contents of the granules of basophils is receptor-mediated. Basophils do not produce antibodies, but their plasma membrane contains receptors, which bind antibodies produced by plasma cells). If these antibodies come into contact with their antigens, they induce the release of the contents of the basophil granules.
Eosinophil [granular type] 0%-5% of WBC
The presence of antibody-antigen complexes stimulates the immune system. Eosinophils phagocytose these complexes and this may prevent the immune system from "overreacting". Their granules also contain the enzymes histaminase and arylsufatase. These enzymes break down histamine and leukotrienes, which again may dampen the effects of their release by basophils or mast cells. MBP, which can also function as a cytotoxin, and its release by eosinophils may be involved in the response of the body against parasitic infections, which are accompanied by an increase in the number of eosinophils.
Monocyte [non-granular type] 1%-9% of WBC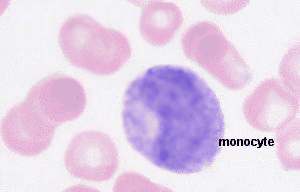 Once monocytes enter the connective tissue they differentiate into macrophages. At sites of infection macrophages are the dominant cell type after the death of the invading neutrophils. They envelop and destroy micro-organisms, tissue debris and the dead neutrophils. Monocytes also give rise to osteoclasts, which are able to dissolve bone. They are of importance in bone remodelling.
Platelets
These assist in the arrest of bleeding. Thrombocytes, which adhere to the walls of damaged blood vessels, can release serotonin, a potent blood vessel constrictor, sufficient to close even small arteries. If platelets come into contact with collagenous fibres in the walls of the vessel (which are not usually exposed to the blood stream), they swell, become "sticky" and activate other platelets to undergo the same transformation. This cascade of events results in the formation of a platelet plug (or thrombus). Finally, activating substances are released from the damaged vessel walls and from the platelets. These substances mediate the conversion of the plasma protein prothrombin into thrombin. Thrombin catalyses the conversion of fibrinogen into fibrin, which forms a fibrous net. Platelets captured in the fibrin net contract, leading to clot retraction, which further assists in prevention of blood loss. Blood coagulation is a fairly complex process, which involves a large number of other proteins and messenger substances. Deficiencies in any one of them, either inherited or acquired, will lead to an impairment of blood clotting.
The prothrombin time, which is also called protime or PT, is a test that is used to assess blood clotting. Blood clotting factors are proteins made by the liver. When the liver is significantly injured, these proteins are not normally produced. The prothrombin time is also a useful test of liver function, since there is a good correlation between abnormalities in coagulation measured by the prothrombin time and the degree of liver dysfunction. Prothrombin time is usually expressed in seconds and compared to a normal control patient's blood.
Return to TOP